UPDATE 5/31/2020 – Pastor Brent's statement on recent murder  of George Floyd. 
I have received 2 inquiries today concerning the recent and horrific murder of George Floyd, who was killed May 25th 2020. However, I'm sure there are others who are hurting at this time as well and have questions. My heart goes out to the George Floyd family & all those affected by this injustice. Because of this, here is a statement that I hope will bring some clarity from my heart to this inexcusable act.
While all must grieve, we understand that in the hearts of our fellow citizens of color, incidents like these connect to a long history of unequal justice in our country, going back for a long time. The images and information we have available to us in this case are horrific and remind us that there is much more work to be done to ensure that there is not even a hint of racial inequity in the distribution of justice in our country. We grieve to see examples like this of the misuse of force, and call for these issues to be addressed with speed and justice.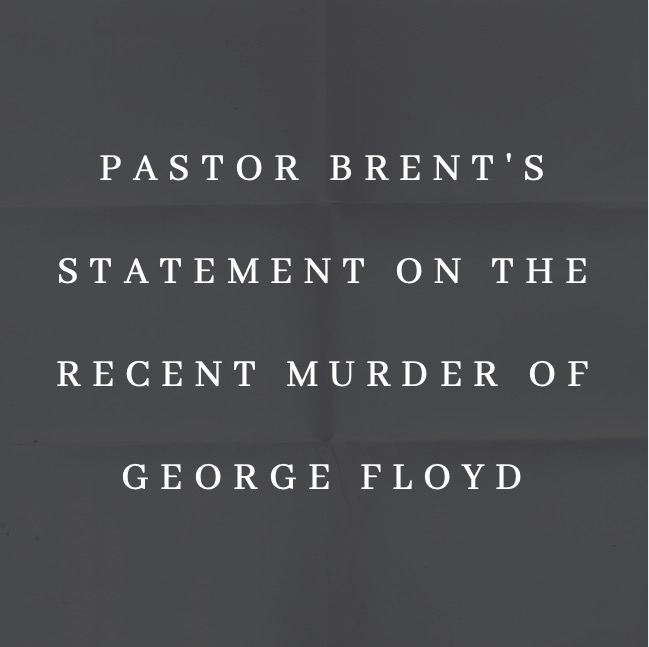 While we thank God for our law enforcement officers that bravely risk their lives for the sake of others and uphold justice with dignity and integrity, we also lament when some law enforcement officers misuse their authority and bring unnecessary harm on the very people they are called to protect. We further grieve with our minority brothers and sisters in the wake of George Floyd's death, pray for his family and friends, and greatly desire to see the misuse of force and any inequitable distributions of justice come to an end.
Throughout the Old and New Testaments, the Bible speaks to matters of justice and human dignity. We are taught by Scripture that human beings are distinct among the rest of creation as those beings which bear the Divine image. From the beginning of life to its' end, all human beings, both male and female–of ALL ethnicities, colors and ages–are sacred beings whom God values and loves.
Throughout the law, the prophets, the gospels and the entire canon of Scripture, murder is condemned and God's people are called to protect the vulnerable. The Bible further condemns injustice and the misuse of authority and force. And in the example of Jesus Christ, God's people are called to love others, care for their needs, grieve with them in brokenness and labor for the well-being of our neighbor. To follow Christ is to follow the example He puts before us.
Therefore, as a matter of Christian obedience and devotion, followers of Jesus Christ should support our brothers and sisters, friends or others whom we seek to win for Christ when they or their family members are mistreated, abused or killed unnecessarily.
Therefore, we pray for our local, state, and national leaders as they seek justice, and call on them to act quickly and diligently to ensure that these situations are quickly responded to and resolved if possible. May God give us His wisdom and strength as a nation and as His people in this time.
Yours because of the Cross,
Brent
UPDATE 5/11/2020 – Special video announcement from Pastor Brent Purvis.
UPDATE 4/22/2020 – Special video announcement from Pastor Brent Purvis.
UPDATE 5/1/2020 – We continue to be overwhelmed by your generosity in the giving of your prayers, your time, and your money. Because of you, Cascade Hills is continuing to make a huge impact for those in need as we show we truly are "The Church for the Unchurched."    
We were once again able to partner with Feeding the Valley for another mobile food drive in our main parking lot on Thursday, April 30. A total of 39,840 lbs. of food was distributed to 750 + cars! This food is crucial to these families as many of them are unable to work due to furloughs during the current COVID-19 crisis.


Cascade Hills Sewing Project: The safety and health of our people and those in our community are always more important than the programs held in our building. That's why we have been working with our amazing volunteers to create cloth face masks and headbands to distribute where needed.



Our volunteers are amazing! We had an incredible response for this sewing project so we've ordered even more supplies. This will allow us to continue providing for those in the medical community, as well as ensure  we have plenty on hand when we are able to resume our regular worship services.
We continue to pray for everyone affected by this crisis. Our biggest prayer is that an unchurched person will see God's love and find Jesus. We are happy to report last week we celebrated 17 salvations and 7 baptisms! 

Thank you for your continued prayers and for your sustained giving during this time. You are a vital part of Cascade Hills Church and you are making all the difference!
UPDATE 4/17/2020 – During this time of social distancing, it's such a blessing to see the many positive ways our community is still being helped. Because of the continued generosity of you, the people of Cascade Hills, here is an update on how we are continuing to be The Church for the Unchurched by reaching out into our community:   
As we mentioned in our last update, 500 snack bags were delivered to staff at Piedmont Hospital. These snack bags helped lift the spirits of those medical staff who are working around the clock to help those in need in our community. 

During this time when medical staff are working long hours, the children of those staff members need somewhere to stay. The

Downtown YMCA

has opened its doors for many of those kids, some of whom spend 12 hours a day there. Last week, our Children's Pastor, Keith Nicholson, received word from one of our Cascade Hills Volunteers that many of those kids were able to watch our Cascade Kids online lesson as a group and 9 kids raised their hands and prayed for salvation! That's incredible! 

Additionally, Cascade Hills is now providing pizza each Wednesday night for the children staying at the YMCA as another small way to show our support.

 
MercyMed of Columbus

recently conducted a a 4-day COVID-19 drive-thru testing site at Cascade Hills. The setup of our parking lot allowed for the medical team to create a flow of traffic which was fully compliant with the current social distancing standards. Over the course of four days, MercyMed tested 1,243 people. A MercyMed spokesperson said, "We are so grateful to our amazing volunteers, staff, and donors to help make this possible. Huge shout out to Cascade Hills Church and the West Central Health District of Georgia for helping in such a major way."

Point University

is a Christian university of nearly 1,200 undergraduate students located in West Point, Georgia. Our College Pastor, Bryan Chavarry, reached out to them last week after hearing they have 24 international students who are unable to travel home because of the ongoing global pandemic. These students are having to shelter in place on-campus, many of them with no way of even working. On Friday, April 17, Bryan and his team distributed care packages to those 24 international students. Each student received a supply of snacks as well as a $50 Walmart gift card.

 
UPDATE 4/2/2020 – Because of your continued generosity, here is a brief update of how we have reached into our community and the world over the past few weeks:   
Our donation of $20,000 to Samaritan's Pursehas been received and the money is being used to help specifically in their efforts to set up an Emergency Field Hospital in Cremona, Italy, in order to care for an overflow of coronavirus patients. They sent this message, "Your gifts and prayers are helping to save lives and provide a powerful platform for us to share the Good News of Jesus Christ with the sick."
The Feeding the Valley Food Bank mobile pantry was set up on Saturday, March 21st in the Cascade Hills parking lot. They distributed food to over 2,200 cars of people in our local community who were in need. 
Feeding the Valley will be hosting another mobile pantry in the Cascade Hills main parking lot on Saturday, April 18th. An additional 2,000 boxes of food will be distributed to families in need in the Columbus area who otherwise may go hungry or without frequent and adequate meals.
Cascade Hills has partnered once again with Feeding the Valley Food Bank through their Buddy Pack Program on Monday (March 30th), Wednesday (April 1st), and Friday (April 3rd). This program serves children who live in food insecure homes and are likely to experience hunger. It bridges the gap between school days and breaks when breakfast and lunches are not available. Cascade Hills has donated $20,000 and is helping deliver boxes of food to Eagle Trace Apartments and Kendrick High School.
Our local Red Cross recently held a 3-day blood drive at Cascade Hills and was able to collect 130 units of blood, enough to save 390 lives! These donations are much needed to help save the lives of those going through cancer and other essential surgeries, and by us helping the Red Cross, we are alleviating some of the worry that many of these patients are going through. The Red Cross set up once again in the Cascade Hills Student Center for a blood drive on Tuesday, March 31st, and will return again on Tuesday, April 21st. Appointments are preferred and can be made at www.redcrossblood.org, sponsor code: cascadehills.
We received word that many of the medical staff at Piedmont Hospital are working around the clock to take care of COVID-19 patients as well as other patients that they see throughout the day. Many of them do not have enough time to take a lunch break or even a snack break because of the high demand of medical care right now. As a small token of our thanks to those on the front lines of fighting the COVID-19, Cascade Hills will be providing 500 snack bags and a note of encouragement to these medical professionals.
We continue to pray for everyone affected by this crisis, and our main goal in partnering with these local agencies is that an unchurched person will see God's love and find Jesus. With that, we are most excited to inform you that since we have had to be exclusively online due to COVID-19, this has not stopped our mission at Cascade Hills of making fully devoted followers of Jesus Christ. Since March 14th, we have seen 33 salvations and 4 baptisms. And this is worth celebrating!
Thank you for your continued prayers and for continuing to give during this time. You are making all the difference!
UPDATE 3/19/2020 – While news headlines continue to remind us of the troubles in the world, we wanted to take a few minutes to share some of the ways we are making a difference with your help.  


Here are a few ways your giving is making a difference in the upcoming week:


We are sending a donation of $20,000 to Samaritan's Purse to help specifically in their efforts to set up an Emergency Field Hospital in Cremona, Italy in order to care for an overflow of coronavirus patients.
The Feeding the Valley Food Bank

mobile pantry will be set up in the Cascade Hills main parking lot to distribute 26 pallets of food, totaling over 1,500 boxes of food this Saturday.
Our local Red Cross is in desperate need of blood and has asked us for help. This coming Monday, Tuesday and Wednesday (March 23rd-25th), they will set up in our Student Center from 1pm-7pm for an emergency blood drive. Appointments are preferred.
MercyMed of Columbus is partnering with the Columbus Health Department to provide COVID-19 screenings and specimen collection. MercyMed staff will collect samples for testing by appointment only for patients who meet the criteria. We have reached out to Mercy Med and will be helping to provide much needed medical supplies to support them in their efforts.
FOCUS is a faith based non-profit organization dedicated to helping those in need in Harris County, Ga. We are making a donation to help them as they deliver boxes of food to elderly individuals living in the Harris County area that are unable to get out of their houses at this time. We will also have a truck in our parking lot if you do have any non-perishable food you would like to donate. Donations will be accepted on Saturday, March 21, from 9am-2pm and Monday-Friday, March 23-25, from 8am-5pm. At this time the items needed are:

Canned Meats, Tuna, Spam, Chicken, Salmon, Mac & Cheese, Pasta, PBJ, Crackers, Cheez-it's, Canned Fruit, Instant Grits, & Oatmeal
Please stay tuned as we will be updating the page as new opportunities become available.
UPDATE 3/16/2020 – Please note, we are postponing our Love Works Week. As you know, with the recent Corona Virus situation, most of the organizations we were planning to serve have had to close or limit access due to new CDC recommendations that for the next 8 weeks, organizers cancel or postpone in-person events that consist of 50 people or more throughout the United States. Therefore, we have decided to postpone all serve opportunities until the Corona Virus situation is behind us. We will notify you as soon as we determine what those dates will be. We hope that you will still be available to help at that time, so please be sure to check your email and social media for updates. We will reach out to you as soon as plans are finalized. Also, as we are told of community needs that arise due to the Corona Virus situation, we are going to do our best to meet those needs and will keep you updated through social media on the ways you can help us do that. 
How is Cascade Hills Church responding to COVID-19?
We want to respond to this situation with both wisdom and care during this vulnerable time. We first must remember what Paul wrote in 2 Timothy 1:7, "…God has not given us a spirit of fear and timidity, but of power, love, and self-discipline." In an effort to do our part to keep the people of Cascade Hills safe, we have decided to cancel all services and on-site activities until further notice. During this time, however long it may be, we are going to continue to minister to you and your unchurched friends and family.
UPDATE 3/13/2020 – We will not be meeting at our physical location, but we are still going to meet together online. Because we have over 400 volunteers and staff and over 3,000 in attendance during our weekend services, we feel we are doing what is best for your safety. Our people are always more important to us than our programs. We can't come together physically, but we can still be together online. Each week, there are already thousands across the world who join us online, so this is a unique opportunity for us to all join together as one. Here's how:
Regular weekly services will all be online at our normal service times. Join us at 4:30pm & 6:00pm on Saturday, or 9:30am & 11:00am on Sunday. 
For our Cascade Kids Ministry, we will offer a Tuesday night family worship service online. Worship with your family with activity sheets, discussion guides, and much more in the comfort of your own homes.
Our Middle and High School Student Ministries will offer online gatherings on Wednesday night during their normal service times.
All off-site Life Groups and College Crews are still encouraged to meet if they would like. 
No on-site Cascade U or other Bible studies will be meeting until further notice.
To participate online for any of these activities, please visit the respective ministry pages via the main menu above.
Most importantly, know that we are praying for you and for the people who have been affected by this virus. If you have any questions in the days to come, be sure to follow our social media accounts. We are managing this situation moment by moment. As of now, our plans for Love Works and our upcoming Easter service at the Civic Center remain unchanged. In the days, and possibly weeks to come, we will be monitoring the situation and will provide updates via social media. One thing is for sure: We will continue to be the Church for the Unchurched and pray that God would use Cascade Hills through this unsettling time.